Thanks to the wonderful
enchantress13
, the 3rd Femaillers calendar is now available! A 12 month collection of spirited artists displaying their creativity and beauty. Pick one up for yourself and your friends! :)
Proceeds are going to
The Petfinder.com Foundation
, an organization dedicated to helping homeless animals find forever homes.
Below is a thumbnail preview of this year's calendar,
CLICK HERE
to pick one up!


Make a post to your LJ with a list of ten holiday wishes. The wishes can be anything at all, from simple and interest-related ("I'd love a Julie Andrews icon that's just for me") to medium ("I wish for new Playmobil pirates") to really big ("All I want for Christmas is a new car.") The important thing is, make sure these wishes are things you really, truly want.


Also, make sure you post some version of these guidelines in your LJ, or link to this post so that the holiday joy will spread.


Step Two:


Surf around your LJ to see who has posted a list. And now here's the important part:

If you see a wish you can grant, and it's in your heart to do so, make someone's wish come true. Sometimes someone's trash is another's treasure, and if you have a leather jacket you don't want or a gift certificate you won't use--or even know where you could get someone's dream purebred Basset Hound for free--do it.

You needn't spend money on these wishes unless you want to. The point isn't to put people out, it's to provide everyone a chance to be someone else's holiday elf--to spread the joy.

My Wish List:
1. A custom Sarah McLachlan Layout for my LJ
2. Paid LJ account or DeviantArt account
3. Gift certificate from
PetSmart
4.
Funny kitty icons for my LJ
Thank you both
thinkdanni
and
andreazenith
:)
5. Tickets to Wrestlemania 23 in Detroit
6. Donations to the
Peterborough Humane Society
or
OSPCA
7. Chocolate covered espresso beans
8. A
Fire Mountain Gems
gift certificate
9. A real handwritten letter sent through snail mail.
10. Help me get one of my
Kitty's Pics
on
Cute Overload
(I will add more pics to this album soon).
Email: ladyronin AT gmail DOT com
Mailing address is friends only
here
.
Merry Christmas :)
Step One:
Eddie Guerrero passed away. It was sudden, unexpected, and most of all, unbelievable. I didn't make sense, it all felt like some sort of cruel joke and I half expected to see Eddie stroll out to the ring smiling and laughing, "I LIIIIIEEED!" In my heart, I knew it would never happen, that Latino Heat was truly gone from our world. He had just celebrated 4 years of sobriety and had changed the course of his life, relationship, and career as a result. He fought so many battles outside of the ring to right the wrongs in his life, battles that so many of us have gone through as well. He proved to everyone around him that it's possible to fall, and fall hard, no matter who you are. But most importantly, he showed that getting up from that fall was possible, that a person can turn their life around if they really want to make a difference.
"I'm ashamed of what I did, but not what I've done to correct my mistakes. I'm proud of who I am." -Eddie Guerrero
Thank you Eddie. Thank you for going out there night after night and entertaining us, for giving us all you had just to bring us to our feet. You were a beautiful person. I wish you could have stayed with us longer my friend.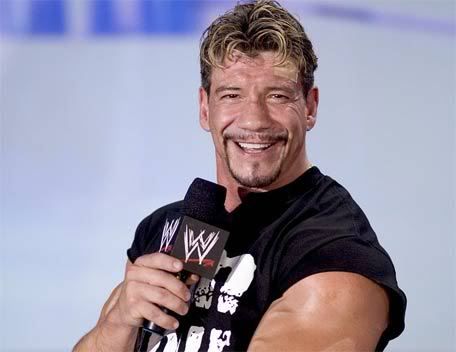 Vaya con Dios Amigo.
Femaillers 2007
All proceeds from the sale of this calendar go towards MS research on behalf of a fellow femailler and friend who was recently diagnosed with the disease.
A big thank you to
enchantress13
for bringing this calendar to us for a second year.
It's here! 12 months of lovely maille clad ladies that wield pliers and an abundance of creativity, not to mention beauty too! Check it out for yourself!
What drives you?
Is it growing poverty?
Is it the starving children all around the world?
Is it the lack of attention to disaster victims worldwide?
Is it our planet's slow suffocation?
Is it wildlife rapidly disappearing across the globe?
Is it your desire for peace, harmony and longevity?
Make a difference, one drawing at a time.
The
Toronto Humane Society
needs your help!!
The "Open Your Heart" Adopt-a-thon is this weekend.
ALL ADOPTION FEES ARE WAIVED
♥ ♥ ♥ ♥ ♥ ♥ ♥ ♥ ♥ ♥ ♥ ♥ ♥ ♥ ♥ ♥ ♥ ♥ ♥ ♥ ♥ ♥
They have never been more desperate to find homes for these animals. Rooms are full to capacity with more animals coming in daily. Recently 133 animals alone were rescued from an abandoned pet store, at least 14 cats were rescued from the squalor of an abandoned house.
If you have been thinking about adopting an animal, now is the time. Open your heart and give a homeless animal a forever home.
Adoption Hours:
Sat. 11am - 7pm
Sun. 11am - 6pm
For more information, please contact The Toronto Humane Society by clicking
here
or calling (416) 392-2273